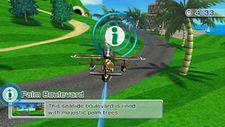 iPoints
are small medals found in the
Air Sports
minigame
Island Flyover
 in 
Wii Sports Resort
 and in the 
Flight Mode
 in 
Pilotwings Resort
. In
Wii Sports Resort
, there are eighty of them, and in
Pilotwings Resort
, there are eighty-one, which can be found all across
the island
.
In Island Flyover, by collecting a certain number of iPoints, the player can unlock special features.
Each iPoint has a description of the location where they are positioned, the description changes depending on the "time of day": morning, evening and night. In this wiki, the iPoints description can be find in each iPoint page.
In Pilotwings Resort, some of the iPoints from Wii Sports Resort are removed, accordingly seven new iPoints are added.
List of iPoints
Wii Sports Resort
In alphabetical order
By location in the island
Pilotwings Resort
Gallery of iPoints
Main article: Gallery:iPoints
Video Gallery
Ad blocker interference detected!
Wikia is a free-to-use site that makes money from advertising. We have a modified experience for viewers using ad blockers

Wikia is not accessible if you've made further modifications. Remove the custom ad blocker rule(s) and the page will load as expected.