This article was a featured article
from May 10 to June 10.
A Wii with a Wii Remote.

Developer(s)
Nintendo
Generation
Seventh Generation
Release Dates
JP December 2, 2006

NA November 19, 2006
EU December 8, 2006
AUS December 7, 2006

Units shipped
Worldwide: 100.30 million (as of September 30, 2013)
Media
12 cm Wii Optical Disc


8 cm Nintendo GameCube Game Disc

Storage capacity
512 MB Internal flash memory

SD card, SDHC card Nintendo GameCube Memory Card

Online services
Nintendo Wi-Fi Connection, WiiConnect24, Wii Shop Channel
Best-selling game
Wii Sports (pack-in, except in Japan and South Korea) 81.99 million (as of March 31, 2013), Mario Kart Wii, 34.26 million (as of March 31, 2013)
Backward

compatibility

Nintendo GameCube
Predecessor
Nintendo GameCube
Successor
Wii U
The Nintendo Wii game console is Nintendo's seventh generation gaming console. Its successor is the Wii U.
The Wii has many advanced features compared to previous Nintendo consoles. For example, the primary wireless controller (the Wii Remote) can be used as a handheld pointing device and detects movement in three dimensions.
It succeeds the Nintendo GameCube, with the original model being fully backward-compatible with all GameCube games and most accessories. Another notable feature of the console is WiiConnect24, which enables it to receive messages and updates over the internet while in standby mode. Speaking of the internet, Nintendo Wi-Fi Connection is available for use. Furthermore, it is the first console to offer the Virtual Console service, with which select emulated games from past systems can be downloaded.
It received two revisions, which are the Wii Family Edition and the Wii Mini. They both lose support for GameCube games and accessories.
Release dates
Wii
North America: November 19, 2006
Japan: December 2, 2006
Australia: December 7, 2006
Europe: December 8, 2006
North America: October 23, 2011
Europe: November 4, 2011
Canada: December 7, 2012
Europe: March 15, 2013
United Kingdom: March 22, 2013
History
The console was conceived in 2001, when the Nintendo GameCube was first released. According to an interview with Nintendo game designer Shigeru Miyamoto, the concept involved focusing on a new form of player interaction. "The consensus was that power isn't everything for a console. Too many powerful consoles can't coexist."
Two years later, engineers and designers were brought together to develop the concept further. By 2005 the controller interface had taken form, but a public showing at that year's Electronic Entertainment Expo (otherwise known as E3) was canceled. Miyamoto stated that "We had some troubleshooting to do. So we decided not to reveal the controller and instead we displayed just the console."[1]
Nintendo president Satoru Iwata later unveiled and demonstrated the Wii Remote at the September Tokyo Game Show.[2] The Nintendo DS is said to have influenced the Wii's design. Designer Ken'ichiro Ashida noted, "We had the DS on our minds as we worked on the Wii. We thought about copying the DS's touch-panel interface and even came up with a prototype." The idea was eventually rejected because of the notion that the two gaming systems would be identical. Miyamoto also stated, "[...] if the DS had flopped, we might have taken the Wii back to the drawing board."[3]
Name
The console was known by the code name "Revolution" until April 27, 2006, right before E3, when its real name was announced.[4] The Nintendo Style Guide refers to the console as "simply Wii, not Nintendo Wii",[5] making it the first home console Nintendo has marketed outside Japan without the company name in its trademark.[6] While "Wiis" is a commonly-used plural form for the console, Nintendo has stated that the official plural form is "Wii systems" or "Wii consoles."[7] [8] Nintendo's spelling of "Wii" (with two lower-case "i" characters) is meant to resemble two people standing side-by-side (representing players gathering together) and to represent the Wii Remote and Nunchuk.[9] The company has given many reasons for this name choice since the announcement; however, the best known is:
Despite Nintendo's explanation of the name, some video game developers and members of the press reacted negatively to the change. They preferred "Revolution" over "Wii",[10] and Forbes expressed a fear "that the name would convey a continued sense of 'kidiness' to the console."[11] The BBC reported the day after the name was announced that "a long list of puerile jokes, based on the name," had appeared on the Internet.[12] Nintendo of America's president Reggie Fils-Aime acknowledged the initial reaction and further explained the change:
Nintendo of America's Vice President of Corporate Affairs Perrin Kaplan defended its choice of "Wii" over "Revolution" and responded to critics of the name by stating, "Live with it, sleep with it, eat with it, move along with it and hopefully they'll arrive at the same place."[13]
Launch
On September 14, 2006, Nintendo announced release information for Japan, North America and South America, Oceania), Asia and Europe including dates, prices, and projected unit-distribution figures. It was announced that the majority of the 2006 shipments would be allotted to the Americas, and 33 titles would be available at its launch.[14][15] The Wii was launched in the United States on November 19, 2006 for $249.99,[16] and was later launched in the United Kingdom on December 8, 2006 for £179.[17] The United Kingdom experienced a widespread shortage of Wii units in many High-Street and online stores, and was unable to fulfill all pre-orders at its release.[18] The Wii was launched in South Korea on April 26, 2008 and Taiwan on July 12.[19][20][21]
Online connectivity
The Wii console connects to the Internet through its built-in Wi-Fi or through a USB-to-Ethernet adapter; either method allows players to access the Nintendo Wi-Fi Connection service.
As with the Nintendo DS, Nintendo does not charge for playing via the service;[22][23] the 12-digit Friend Code system controls how players connect to one another. Each Wii also has a unique, 16-digit Wii Code for use with Wii's non-game features.[24] The system also implements console-based software, including the Wii Message Board. One can also connect to the Internet with third-party devices.
The service has several features for the console, including the Virtual Console, WiiConnect24, Internet Channel, News Channel and the Check Mii Out Channel. The Wii can also communicate (and connect) with other Wii systems through a self-generated wireless local area network, enabling local wireless multi-playing on different television sets.[25]
Wii channels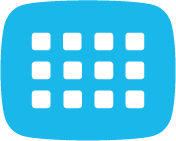 The Wii Channels are features/applications of Wii stored in a Channel slot on the Wii Menu that features an animated icon. Selecting a Channel icon with the Wii Remote's
 button then allows the user to open it by clicking the "Start" button. The Wii Channel Menu features 48 Channel slots spanning four screens, with each screen having 12 Channel slots. Therefore, a single Wii can have a total of 48 Channels. With the exception of the Disk Channel, all Wii Channels on Wii systems with Wii Menu firmware 2.0 and beyond can be moved by grabbing a Channel icon (by pressing the
and

buttons together simultaneously), moving the icon over an open Channel slot, and releasing the buttons.
Controllers
Buttons
Revisions
Wii Family Edition
The Wii Family Edition variant is identical to the original model, but is designed to sit horizontally (the vertical feet are still present; however, the front labels are rotated and a stand is no longer included) and removes the GameCube controller and memory card ports. For this reason, the Family Edition variant is incompatible with GameCube games and accessories.
Wii Mini
The Wii Mini is a smaller, redesigned Wii which lacks s-video output, Nintendo GameCube compatibility, online gaming, the SD card slot and Wi-Fi support, and has only one USB port unlike the previous models' two.
Incuding the Wii Sports, Wii Fit, Wii Party and Wii Play sub-series.
Trivia
872.73 million Wii games have been sold worldwide as of June 30, 2013.[26]
The Wii is Nintendo's smallest home console to date; it measures 44 mm (1.73 in) wide, 157 mm (6.18 in) tall and 215.4 mm (8.48 in) deep in its vertical orientation, slightly larger than three DVD cases stacked together. The included stand measures 55.4 mm (2.18 in) wide, 44 mm (1.73 in) tall and 225.6 mm (8.88 in) deep. The system weighs 1.2 kg (2.7 lb),[27] which makes it the lightest of the three major seventh-generation consoles.
Gallery
External links
References
Ad blocker interference detected!
Wikia is a free-to-use site that makes money from advertising. We have a modified experience for viewers using ad blockers

Wikia is not accessible if you've made further modifications. Remove the custom ad blocker rule(s) and the page will load as expected.