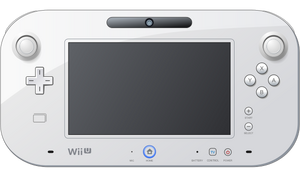 The
Wii U GamePad
is the main controller used for the
Wii U
. It is commonly used along with the
Wii Remote
(and the
Wii U Pro Controller
), but it is not compatible with the
Wii
, along with the Wii U Pro Controller.
It features a built-in 6.2 inch (15.7 cm) 16:9 resistive touchscreen, which can either supplement or replicate the gameplay shown on the television display. It also features a built-in front-facing camera and sensor strip, a built-in microphone, stereo speakers, and supports NFC.
History
Nintendo's development team had felt that the Wii's notification light did not provide enough information to be useful beyond whether it had received content or not. With the complexity of modern televisions, designer Shigeru Miyamoto felt that a monitor separate from the console would provide an easier way to check on the console's status without needing to use the television.
Satoru Iwata stated that the controller's design is intended to provide a deeper experience for all players and allow them to "see games in a different way,"[1] a concept referred to as "asymmetric gaming" during its E3 2012 press conference.[2] With the Wii U's Miiverse social networking functionality, Iwata also likened the controller's screen to a "social window", which can allow users to remain connected even if they aren't playing.[3]
See also
References
Ad blocker interference detected!
Wikia is a free-to-use site that makes money from advertising. We have a modified experience for viewers using ad blockers

Wikia is not accessible if you've made further modifications. Remove the custom ad blocker rule(s) and the page will load as expected.