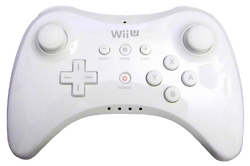 The
Wii U Pro Controller
is the tertiary controller for the
Wii U
, available separately.
Like more traditional controllers, it features standard control sticks, buttons, and triggers. Nintendo claims that the design of the Pro Controller is an "enhanced version" of the Wii Classic Controller and "offers a richer experience." Certain games with flexible control schemes, such as Call of Duty: Black Ops II and Trine 2: Director's Cut, are also compatible with the Classic Controller. The Wii U Pro Controller's battery can last up to 80 hours before needing to be recharged. The Wii U Pro Controller is not compatible with previous-generation Wii games.
See also
Ad blocker interference detected!
Wikia is a free-to-use site that makes money from advertising. We have a modified experience for viewers using ad blockers

Wikia is not accessible if you've made further modifications. Remove the custom ad blocker rule(s) and the page will load as expected.